2016 Clearwater Snake Steelhead Derby sponsored by Karl Tyler's Lewiston Chevrolet
Final Results
(view leaderboard page for complete daily results)
Overall Winners
1st Place: $1500 – 19.15 lbs. – Robert Bass – Colbert, WA
2nd Place: $750 – 18.73 lbs. – Bryan Winkleman – Lewiston, ID
3rd Place: $500 – 17.07 lbs. – Robert Bass – Colbert, WA
FishSkins
1st Place: $500 – Robert Bass – 51.75 lbs.
2nd Place: $350 – Darin Copenspire – 45.37 lbs.
3rd Place: $200 – Michael Tobin – 43.56 lbs.
Overall Youth
1st Place: $100 – 15.70 lbs. – Cole Tenny – Nine Mile Falls, WA
2nd Place: $75 – 14.6 lbs. – Tyler Slaybaugh – Pomeroy, WA
3rd Place: $50 – 14.1 lbs. – Tyler Slaybaugh – Pomeroy, WA
(prizes award in gift cards)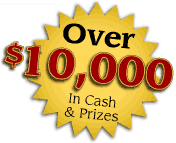 The Derby begins at 12:00AM on Saturday, November 19th and runs through Noon on Saturday, November 26th. The Opening ceremony kicks off the week on Friday, November 18th from 6-9PM at the Karl Tyler's Lewiston Chevrolet Showroom in North Lewiston. This year's ceremony will have music, entertainment, raffles, giveaways, dinner and drinks included for registered anglers, and awesome goody bags for the first 200 registered anglers to walk through the door!
First Place prize money is $1500!!! And the Clearwater River Casino – Catch of a Lifetime Contest is back! Each registered angler has 8 chances, one per day of the derby, to win $22,500, to be used at any of the derby sponsors businesses!
The 2016 LEADERBOARD is updated each evening, beginning Saturday, November 19th. Please check back nightly for updated results!
Overall Grand Prize – Heaviest Fish
1st – $1,500
2nd – $750
3rd – $500
Daily Prizes – Heaviest Fish
Awarded each day.
1st – $150
2nd – $100
Plus Daily Mystery Fish and FishSkins Competition!
Southway Boat Launch
Snake River Ave. – Lewiston, ID
Riverview Marina
711 Snake River Ave. – Lewiston, ID
Les Schwab
1408 Main St. – Lewiston ID
1468 Bridge St. – Clarkston WA
Register online or over the phone!
Call: toll free 800.933.2128 or 509.758.7712
Derby Entry Fee: $30.00
Youth (17 & Under): $15.00
FishSkins & Derby: $50.00